Blog, Traditions
See the full Red Moon rise tonight 18.08.16
A full red m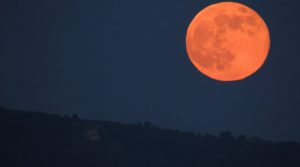 oon is a natural phenomenon. It occurs each full month when the Sun, Moon and the Earth fall into line, with the planet earth in between both.
During this right time, the Earth-facing part of the moon is lighted by sunlight completely.
The result presents observers on earth with a stunningly unique lunar display, as long as the weather permits, of course.
(among others)
The next full moon is named blue, not only because it is rare, but also since it was once actually blue! This did not just for just one evening, but actually for a number of years. A robust eruption in Indonesia, equal to the force of 100 megaton bomb, loaded air with a dense cloud of ashes and particles that continued to be in the atmosphere for a long time, making the moon blue through it show up.
The phenomenon was so rare; therefore the term "blue moon" became synonymous with the idea of "barely ever."
This year for those of you visiting Kos Island you will have the chance to watch the full red moon rise from Casa Romana, the legendary Roman manor that is located in the Islands city center. The entrance is free of charge and doors open at 20:00pm. See details here.
Photo > http://bit.ly/2bzMW0r